While roulette is a widely recognised casino game and transfers beautifully from the real-life casino hall to the online space, there are issues that can particularly catch out newcomers (it's best to check out our casino reviews for these).
We therefore decided to outline some of the most crucial things for you to know.
1. Not all online casinos are the same
While basically any online casino or slots site that you encounter will have roulette games for you to play, when you are only just starting out with online roulette for the first time, it's a good idea to go with a casino that is a widely recognised name and has been around for many years.
Yes, certain casinos will offer monster bonuses, or may be designed in a way that makes them a little more interesting than your average roulette site. But those less familiar and 'quirkier' roulette portals may also be more likely to scam you.
Check out online reviews like our own here at Top 10 Best Online Casinos to work out which casinos are really worth their hype and will protect your money.
2. European roulette gives you the best chance of success
Don't be fooled into thinking that the difference between European and American roulette games is mere aesthetics – the double zero that you will find on an American roulette wheel is absent on its European counterpart, which makes a real difference to your likelihood of winning.
The European roulette wheel's lack of a double zero means you've got a slightly higher chance of victory. As a matter of fact, the American wheel's house edge is double that of the European version. There are several roulette systems you can use to help you on your roulette journey.
3. 'Practice mode' will allow you to avoid risking your money

If you're new to the world of online roulette, it should go without saying that you don't just head straight into the 'real money' games and start losing actual cash, simply because you're anxious to practice your roulette technique before getting serious about anything.
That's why any good roulette portal should give you the option of switching to a 'free' or 'practice' mode, so that you can test things out, experiment with your approach and generally avoid any risks with your roulette gaming until the time comes that you feel ready to chance your actual hard-earned.
4. The deposit and withdrawal process can also differ from site to site
Remember that when you win at roulette, that's not the last stage of the process – you will also need to cash out your profits without too much hassle. This is why it's vital to research the deposit and withdrawal processes at your chosen casino site, including the relevant commissions and fees.
You don't want to be stung by your choice of casino portal when you're trying to earn as much money as possible from online roulette. That's why you should not only familiarise yourself with the accepted deposit methods so that you can be sure that your preferred option is represented, but also check online feedback to see whether the site has a reputation for paying out quickly.
Bear in mind that wagering requirements will frequently apply to bonuses on your chosen site, such as the welcome bonus, meaning that you have to do a certain amount of roulette playing before you are able to take any cash out of your account. The relevant promotion's terms and conditions should reveal all.
5. You can learn a lot from time spent in a real casino
All of that time spent in front of a computer screen can be disorientating and demoralising at times, so it's worth giving yourself a change of scenery from time to time – and learning even more about roulette in the process.
Yes, that's right: we're talking about walking into a real casino. Watch the game, dabble in it yourself, chat to other roulette players and absorb everything you see and hear that will enable you to develop your own effective approach to roulette.
6. Objectivity will serve you better than emotion
It's understandable that if you lose, you may react in an emotional and impetuous way. Unfortunately, in your efforts to quickly win back your losses, you may find yourself losing even more, having not stopped to consider the best strategy for you.
Whatever strategy you've been using, you shouldn't forget about it and panic just because you have a few losses. In any case, as with all forms of gambling, roulette requires a degree of luck if you are to succeed, so there's no point getting too stressed about a loss from a supposedly 'perfect' strategy.
7. Live dealer casinos may be fairer than RNGs

One of the best things about the world of online roulette is the increasingly prevalence of 'live roulette' or 'live dealer roulette'. This is a form of roulette that, from your point of view, is still played on a screen, but which involves a real dealer and a real roulette wheel.
Of course, live dealer casinos are great in part because of the more realistic atmosphere they have compared to standard online casinos. However, there's also the fairness aspect to consider.
Standard online roulette typically uses a Random Number Generator, or RNG, to generate its results. In theory, this makes it fair – but if it has not been audited by a respectable company, that might not be the case. Live dealer roulette, by contrast, involves an actual wheel, so it's as fair as a real game of roulette.
8. Learn the rules and get well-versed in the fine print
Roulette is a casino game that almost everyone seems to instinctively know how to play, which is one reason why it's such a great game to start off with when you're new to online or offline casinos.
However, this can also make some players a little naive about other things that really matter – such as the rules that govern the specific online casino and could make a real difference to how much money they win or lose.
Different versions of roulette have slightly different rules as well, of course, and it's vital to also make yourself aware of these. Knowledge is power when it comes to any kind of online roulette, so don't wait until you are gambling real money before you take this aspect seriously.
9. Setting aside a percentage of your profits will keep you in the black
It's surely the most predictable thing about online betting: if you pull off a string of wins and are therefore carrying a healthy amount of money, the very last thing that you should do is just continue betting everything. That's a recipe for losing all of your profit in no short order.
So if you do taste victory, why not set aside a small proportion of your profit each time you win, leaving it untouched as you keep on playing with the rest? It certainly sounds like a winning strategy to us.
10. Roulette is addictive, just like any other form of gambling
As beautiful as roulette wheels are and as captivating as the game of roulette may be, it is important to bear in mind the thin line between a bit of casual gambling and it becoming a serious, long-term and perhaps addictive activity.
Don't get too anxious about making a profit, but also don't allow yourself to be powered by the adrenaline rush alone. Be smart about the very real risks of becoming addicted to online roulette, and never gamble more money than you can afford to lose.
Check out our ratings and reviews for the best roulette sites to play at , and you can further boost the likelihood of having an enjoyable, lucrative time as a player of this fascinating, stimulating and celebrated game.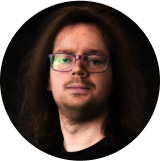 Author
Gavin Lenaghan
Gavin writes on a wide range of subjects, including articles and reviews about online casinos, slots, bingo, poker, and sportsbooks. He has considerable expertise in the games, customer service, and other aspects of today's leading gambling and betting portals.