This discussion is going to serve as a short tutorial for learning to play poker online. We will not try to teach you anything about strategies or methods for winning the different versions of the game. Instead, this is going to be a simple explanation of what online poker is and the different games readily available.
The Internet and Television
The surge of interest in online poker rooms is a direct result of two things – televised poker events and the availability of online casinos. Now anyone with an Internet connection can play games of poker against real people or advanced machines, and at any time of the day or night!

The best casino sites also make tournaments available for their clients as well and this is a good way for people with advanced skills to make excellent returns on the time spent mastering poker techniques.
Basically, the process must begin with selecting a casino to meet your needs, and we suggest that you shop around a bit in order to determine which casino has the features that you require. You will also want to be sure that they offer the versions of the game that you prefer and that these are accompanied by "free games" or tutorials.
The most commonly played types of poker include:
Texas Hold'em

Omaha – the High or the Hi/Lo variants

7-Card Stud

5-Card Draw

Razz

Triple Draw
All About Bonuses
Once you find the site that has the games you want and the educational opportunities mentioned, go ahead and register with them. Before you make that final decision, however, we do recommend that you see if any of the sites make bonus or promotional offers available too. Often, this can qualify as "free money" if the terms and conditions are reasonable.
For instance, if the site promises a 20% bonus on your initial deposit (usually with a minimum bonus required) you need to wager around 18 to 25 times the initial deposit amount to get the reward. Some sites even deposit credits into an account immediately, which is an even better system for the player.
Once you have registered and made a deposit, go ahead and begin mastering your poker skills. Most of the sites will let you play several tables at one time, but until you have really started to understand the challenges of a good poker game you should just stick with one table.
Something to remember about the online poker rooms is that the active tables have a lot of unique tools that can help you to improve your skills. For example, at free and real money tables, it is often possible to rewind the last few plays to see how something actually occurred. For instance, if you find yourself saying, "Whoa, how did she do that?" you can go back a few moves on your screen to see how a successful player tricked everyone at the table.
The tables might also have "chat" features, but you should be very aware of the ways that people use them to distract or intimidate their competition. This is not illegal, but if you find that a specific player is constantly pestering you at the table you can avoid them or register a complaint.
Online poker rooms are the ultimate way to enjoy games of poker whenever and however you want. There is almost no limit to the types of games available, and you can really enhance your table games by using the online rooms too.
Find a Great Offer
Ready to find a great offer to add to your bankroll? Check out online casino reviews to see how we rank some of the best deals available in the entire industry.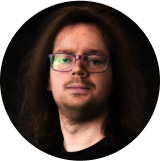 Author
Gavin Lenaghan
Gavin writes on a wide range of subjects, including articles and reviews about online casinos, slots, bingo, poker, and sportsbooks. He has considerable expertise in the games, customer service, and other aspects of today's leading gambling and betting portals.