What's better than combining two casino favourites in one great game? Playing jackpot slots gives you the opportunity to win big no matter what you wager while having the choice of a fun selection of new and top slot games. The visuals, graphics and software are equally as colourful and entertaining as regular slots, so whether you're a newcomer to the world of online slot games or a regular punter, there is bound to be a jackpot slots game for you.
Jackpot Slots vs Regular Slots
While regular slots provide you with a win based on your bet, jackpot slots provide you with the opportunity to win much, much more - even into the millions! Regular slots will have a prize or 'jackpot' that is a fixed amount, set at 20x, 100x or 500x your total wager. Wagering 10p a spin or £10 a spin, along with the fixed rate, will determine your prize potential, so you need to put more at stake to win big with a regular slot.
A jackpot slot accumulates its prize money from all punters playing a certain game, either at your favourite institution or from multiple casinos connected by a virtual network. This means that players (possibly from different casinos) are putting money into a big pool every time they wager on a slot. Because of this, jackpots are unfixed and continually growing with each play and can be worth millions of quid! The added benefit of playing jackpot slot games is that you can still wager small and win the big prize. Once the jackpot is won, it goes back to a set base and builds up again over time as more players play the game.
Local vs Progressive Jackpots
Now that you've figured jackpot slots are the way to big wins, you need to know how to choose the best jackpot slot game for you.
A local jackpot grows only when punters at a certain casino are trying their hand at the reel. Generally, local jackpot slot games have a smaller jackpot than the progressive jackpot games - often under £100,000, though sometimes as much as a £1,000,000. Depending on the casino, there may be a dozen or ten dozen jackpot slot games connected to a jackpot. The more slot 'machines' connected to the network, the faster the jackpot grows, but the lower the odds of getting a winning spin.
A progressive jackpot slot game works the same as a local jackpot slot game, but on a bigger scale. Progressive jackpots are made from slot games connected over a wider network, maybe a few online casinos, and possibly internationally. Because of the large number of players contributing to the jackpot, the prizes on these slot games can grow easily into the millions, but you may have a reduced chance of landing a winning spin.
Popular Jackpot Slots
There are many high-winning top jackpot slot games out there. The most popular jackpot slot games include:
Mega Moolah Brand Games

The Mega Moolah game series has many top options providing you with many chances to win big. Powered by trusted Microgaming software, these are often progressive network slot games with several jackpots in the millions. Options for top games include Mega Moolah Classic, Mega Moolah 5 Reel Drive, Mega Moolah Summertime and Mega Moolah Isis.
Wheel of Fortune Brand

Progressive slot games from this world-famous brand regularly reach into the million-pound range. There are plenty of fun games surrounding the timeless fun of the Wheel of Fortune theme to try from.
Major Millions

Another top big winner from Microgaming, this slot has been a long-standing favourite for gamers since its reveal in 2000. Staying simple and fun while the game world is always changing, this classic game is fun for any kind of slot game lover.
Big Wins
Some of the largest jackpot wins have been from these top games, whereas others are from some less popular progressive slot games such as Arabian Nights or Hall of Gods. However, the biggest jackpot wins so far have been:
€17,860,868 won in 2013 on Mega Fortune

£13,212,882 won in 2015 on Mega Moolah

€11,735,446 won in 2011 on Mega Fortune

$11,633,898 won in 2016 on Mega Moolah

$11,609,942 won in 2016 on Mega Moolah
Why Choose Jackpot Slots?
These are fun, exciting games that offer you the chance to win big money no matter what you wager. Whether you choose to keep it local or to spin into a wider network, you'll be sure to have a great time playing for that big jackpot win.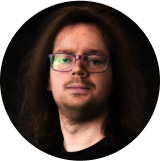 Author
Gavin Lenaghan
Gavin writes on a wide range of subjects, including articles and reviews about online casinos, slots, bingo, poker, and sportsbooks. He has considerable expertise in the games, customer service, and other aspects of today's leading gambling and betting portals.