| Method | Deposit Time | Payout Time |
| --- | --- | --- |
| | Instant | 1-5 days |
| Bank Transfers | 1-4 days | 1-4 days |
| | Instant | Instant |
| | Instant | N/A |
| | Instant | Instant |
| | Instant | 1-3 days |
| | Instant | 1-4 days |
| | Instant | Instant |
| | Instant | 3-5 days |
What Are The Best Online Casino Payment Methods?
One of the most familiar aspects of the online casino experience is being confronted with that long list of payment methods that your chosen site accepts - whether on the deposit or withdrawal page or at the bottom of the homepage. Let's face it – it can be a bit intimidating!
Putting down some of your own cold, hard cash with which to play slots, roulette or blackjack is a key part of what it means to be a member of an online casino. But does it make a difference which payment method you use? Is the most obvious - a debit card, or perhaps PayPal - the way to go, or are there hidden benefits to going with a more obscure e-wallet or prepaid card?
To answer such questions, we decided to look through each of the best-known methods... one by one.
Debit Cards



There's really no more ubiquitous a casino deposit or payment method than the humble debit card - basically every casino site, ranging from Casumo to 32Red, accepts them. Just look out for those well-known names like Visa, Maestro and MasterCard.
Debit cards are known for their high level of security - if you want to be sure that your money will be safe, it's harder to think of a better option. Compare and contrast the various sites that we have reviewed to find the leading Maestro, MasterCard and Visa casinos.
✓ Accepted almost everywhere
✓ Impeccable level of security
✘ More obscure cards may not be accepted at some sites
Bank Transfers
Bank transfers - also known as wire transfers - are accepted by most online casinos, such as Dunder, and are used by many people who are only just getting used to online casinos. A bank transfer is certainly a safe and secure way of moving funds - it's a very 'hands-on' method that removes the need for you to even disclose any of your personal details. However, it can also be achingly slow compared to many of the alternatives on this list, and who wants to be left waiting for several days before they can start gambling?
✓ More anonymous than other methods
✓ You'd struggle to find anything safer
✘ Processing can take several days
Neteller
Neteller is one of the e-wallets that crops up most often in the lists of accepted payment methods at the various popular casinos - the likes of Casumo, Dunder and Casino of Dreams all accept it. As far as reputability is concerned, you really can't do better than Neteller as a way of depositing and withdrawing casino funds. It's owned and operated by the publicly traded British global payments company Paysafe Group, is associated with super-fast payouts and implements all of the latest security measures to give you the utmost peace of mind.
✓ Available at practically every online casino known to man
✓ Extremely fast withdrawals
✓ Rock-solid security
Paysafecard
Paysafecard is another one of those prepaid cards that seem to be accepted at pretty much every online casino - some that are happy to take Paysafecard payments include Casumo, 32Red and Casino of Dreams, among others. Many thousands of websites across the world accept Paysafecard, which is straightforward to use - you simply visit a Paysafecard sales outlet near you, add funds to your card and then enter the 16-digit pin code associated with your Paysafecard at your chosen online casino.
✓ Safe and secure online payments
✓ Rapid payouts
✘ Less convenient than an e-wallet, as you have to find a local sales outlet to add money to your card
Skrill
Formerly known as Moneybookers, Skrill is an e-wallet that works in a similar way to the better-known PayPal. You sign up for an account, add your bank account details to it and transfer funds to your Skrill account, so that the online casino you're using never has the responsibility of directly handling your bank account information.
If for any reason you do prefer the prepaid card way of doing things, Skrill even offers its own prepaid MasterCard. Examples of Skrill casinos include Casumo, Casino of Dreams, 32Red and Dunder.
✓ Accepted by all of the most popular casinos
✓ A well-known and trusted e-wallet
✓ High level of security to protect your hard-earned winnings
PayPal
PayPal is in many ways the e-wallet to beat all e-wallets. It's certainly the one that you are most likely to have heard of if you are a newcomer to the online casino world, at least if you have ever purchased an item on eBay, the auction giant which took over PayPal in 2002 but has since spun it off into an independent company.
Basically everything that you could hope for from an online payments system is offered by PayPal. It's also easy to find a PayPal casino, with one of the best-known being 32Red.
✓ Strong reputation built since its establishment in 1998
✓ Quick and easy deposits and withdrawals
✓ Strong customer service
Trustly
Trustly isn't exactly one of the most common payment methods to be accepted by online casinos. Nonetheless, it offers certain advantages, not least the fact that you don't even need to sign up to Trustly to use it. You just follow some simple steps to deposit to your chosen Trustly casino from your bank account, with 2048-bit encryption used to ensure the most robust security.
Dunder is among the casinos that accept Trustly.
✓ No need to register with Trustly
✓ Secure e-payments from your bank account
✘ Not accepted by many online casinos
ecoPayz
While ecoPayz isn't the most obvious way to put down a deposit at an online casino, it might be an appealing option if you aren't sure whether you prefer an e-wallet or prepaid card. That's because the company effectively offers both, with the latter known as the ecoCard.
The firm was established way back in 2000, so you can generally place your trust in an ecoPayz casino, especially when it's one of those to be recommended by us, such as 32Red.
✓ Both e-wallet and prepaid card functionalities available
✓ Free to register an account
✓ No need to share your private information with your chosen casino
Entropay
Entropay was launched in the early 2000s, the idea being to enable anyone to make online payments, regardless of their location or creditworthiness. It's an e-wallet and a prepaid card all at once, allowing you to add money to your account at any online casino where Visa is accepted.
It's difficult to think of a better option than Entropay for safety and security, given in part that even in the extremely unlikely event of someone managing to hack into your Entropay account, they would only be able to spend the money that you've put there. Sign up to a trusted Entropay casino – such as 32Red – today.
✓ A long-established payments system
✓ Offers the advantages of both an e-wallet and prepaid card
✓ Accepted at any online casino that accepts Visa
Bottom Line
So, there you have it – a not all-exhaustive, but nonetheless extensive list of some of the most popular and renowned payment methods available at the leading casinos online.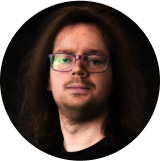 Author
Gavin Lenaghan
Gavin writes on a wide range of subjects, including articles and reviews about online casinos, slots, bingo, poker, and sportsbooks. He has considerable expertise in the games, customer service, and other aspects of today's leading gambling and betting portals.